HOW TO CLEAN
MAKE UP BRUSHES
BREATHE NEW LIFE INTO YOUR MAKE-UP BAG WITH OUR SIMPLE STEPS TO A SQUEAKY-CLEAN KIT
HOW TO CLEAN MAKE-UP BRUSHES
1. Wet the bristles under warm water.
2. Press 2-3 pumps of our Tea Tree Hand Wash into your palm.
3. Swirl the brush in a circular motion against your palm until make-up starts to come away. Rinse under warm water, swirling as you do, until all the hand wash has been washed away.
4. Repeat until all the last traces of make-up residue are gone and water runs clear.
5. Leave your make-up brushes to air dry, making sure they are not left on a radiator or any other hot surface.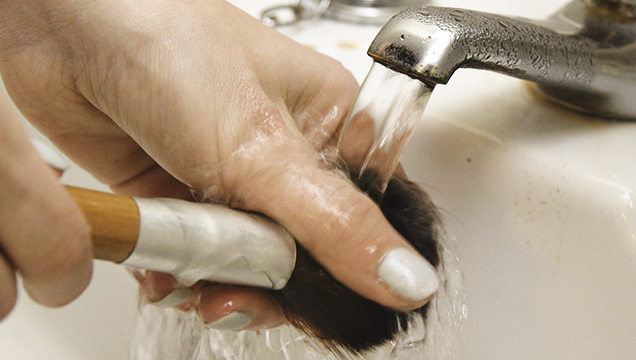 WHAT ARE THE BEST MAKE-UP BRUSH CLEANERS?

While there are all sorts of cleansing formulas and kit designed especially for brush cleaning, these aren't essential. There's no need to splash out on an extra product when you already have everything you need on your bathroom shelf. Shampoo, Hand Wash, Face Wash and Foaming Cleansers will do the job beautifully, shifting away impurities just like they do for your hair, hands and face.