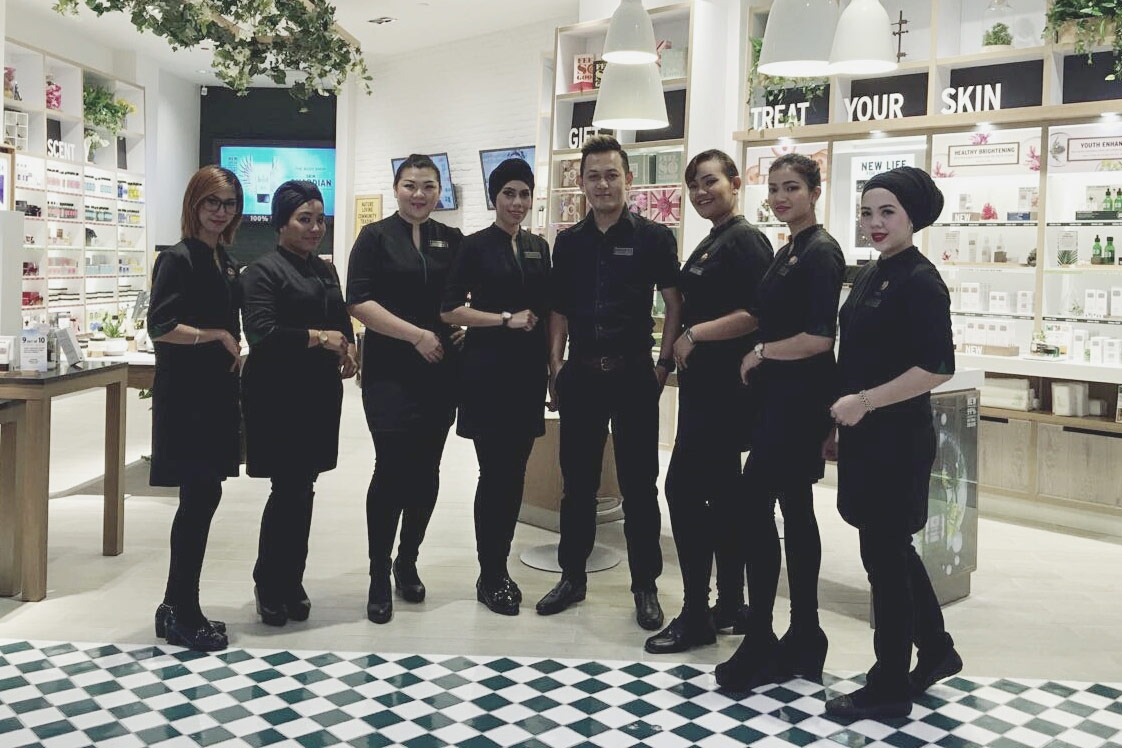 Rosman Bin Nasron, Senior Store Manager, KLCC I love working at The Body Shop!
My career started as a Sales Consultant back in 2006 and I am now a Senior Shop Manager at the KLCC store. I have worked with the company for 9 years. It has been a great experience for me and it feels like being part of a big family.
I have been able to develop myself both personally and professionally during my career, and feel inspired to work for a company that encourages growth and offers opportunities for advancement. The Body Shop is a great place for people that really want to expand their skill set and knowledge and allows their talent to grow in a positive working environment.
What I enjoy most about working for The Body Shop is managing people as well as my store. I am constantly building strategies that makes me a successful leader. By doing this, I've learnt how to think out of the box. If I didn't, it would limit my growth within the company, as well as with my team. Being responsible for my team's success means that I have to lead by example, which automatically creates positive energy within my team. It also means that I am able to fulfill my job role.
Meeting different people from different nationalities every day has helped build my confidence whilst at the same time exposed me to new ideas and expanded my knowledge.
Anna Abdul Sani, Retail Operations Manager My career started as a Product Consultant at The Body Shop, and now I am a Retail Operations Manager. I felt very lucky and blessed to be able to grow alongside the company for many years. My experiences with The Body Shop have really given me the opportunity to learn and experience various challenges and be successful in life. Since working with the company, I've become more passionate, stronger, confident and happier in life.
I feel motivated everyday because here, I'm able to share my strengths and knowledge with all my retail staff and also guiding them along their journey to help them achieve their goals. Nothing is more satisfying than witnessing their success and achievements to the next level of their career. I'm very lucky to be working with a team of highly motivated people that's full of energy, passion and strongly believes in teamwork.
My fulfillment also comes from knowing that I'm able to contribute and help communities in need. Knowing that I can help other people by passionately campaign for a cause and educate customers on how they too, can make a difference is what I enjoyed. Besides that, I love meeting and talking to interesting customers from various backgrounds everyday. Being able to share our values and at the same time, help them enhance their natural beauty is extremely satisfying.
Alfee Ng, Head of Visual Communications I believe I'm working with the most unique and interesting brand. The Body Shop is not just a retail brand but one with a long history of extraordinary values and believes. With innovation, a wide range of products, and the uniqueness of its community traded ingredients, we are already different from others.
I have learned much and constantly motivates myself in creatively producing materials that are environmental-friendly and to always incorporate our values. It is truly an enriching experience because what I've gained here throughout my journey with the company has benefited me so much in terms of skills, knowledge and exposure to the retail business.

Being a designer, it is my constant challenge in this competitive industry to create ideas to make a store look more outstanding than others, especially with the emergence of new brands. My passion for the company, the team and the work I do provides the sole motivation for me to move forward in my career here.

I feel proud working with The Body Shop, being able to be part of a community that actively and constantly engage themselves socially and environmentally. I can proudly tell everyone that, everyday; I play a part in conserving Mother Earth.